ENOTA

Premium RV Sites
on the Stream
North Georgia Mountains between Helen, Hiawassee, Blairsville, Young Harris
ENOTA'S MOST RECENT RV CAMPING ARTICLE - Click Here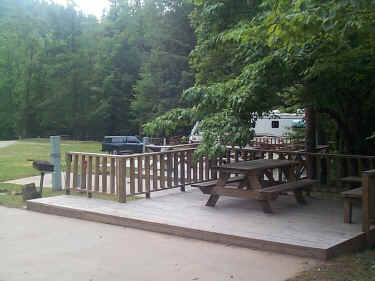 Enota is a North Georgia Mountain R.V. Retreat Campground, nestled deep in the Chattahoochee National Forest with four waterfalls and five streams on the property. Our cool, comfortable Summers and continual nearness to water make this property a wonderful year round option for vacationers, hikers, or those simply looking for a fun day adventure. centrally located 14 miles from Helen, Hiawassee, Blairsville, and Young Harris. We are also nearby Dahlonega, Murphy, Clayton, and Blue Ridge. Brasstown Bald, our nearest neighbor and the highest point in Georgia, is a mere three miles away.
Nicely shaded 30 & 50 Amp Campsites on the Stream
Enota only has 31 sites on the 60 acres. We keep all of our R.V. camping sites natural without disturbing the land. Reservations are site specific.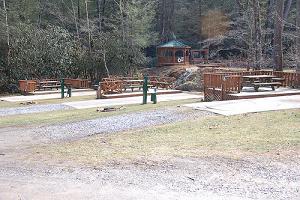 2016 - 2017 Good Sam's Rating:
9/10 Campground, 10*/10 Bathrooms, 9.5/10 Visual Appearance
Most of our R.V. camping sites are right on the stream, nicely shaded, and come with a level concrete pad. All of our sites come with a large wooden deck, picnic table, outdoor grill and fire pit. All include electrical, water, and sewage hookups (no cable) with 30 or 50 amp.
Full Hookup Camping with Water, Electric, and Sewer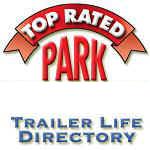 Enota's RV campground sites are highly regarded by the rating agencies. We are on Woodall's Best of the Best nationwide list and Trailer Life's Top 100 in the nation lists. Enota is rated to be in the two top RV campgrounds in Georgia by both Wooodalls and Trailer Life.
Grill, Fire Ring, Picnic Table & Deck on Each Site
Pricing is $80 per night for stream-side sites and $75 per night for sites near the stream. These prices are for up to two adults, two minor children, and one motorized vehicle (such as your towing truck or motor home). Additional adults are $10 per night, additional children are $5 per night, and extra vehicles are $5 per night. Enota is pet friendly. There is a small charge of $5 per night per pet while camping.
Pricing is rated for one tent with two adults, two youth children, and one motorized vehicle (ex. your towing truck or motor home).
Any additional people, vehicles, or tents would be charged as follows:
-Each extra adult over the 2 allowed is $10 per night
-Each extra youth child over the 2 allowed is $5 per night
-Each extra vehicle over the 1 allowed is $5 per night
Although each site has a fire ring, please do not bring firewood. Nice bundles are for sale at Enota for $5 each.
Click here for more information on Enota's camp fire policy.
Check Availability Online or Send Email Request

Nice Big Wooden Decks with Sitting Areas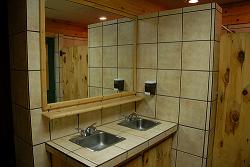 Available twenty-four seven to all guests is our newly remodeled bath house. It is clean, handicap accessible, and provides private showers with plenty of hot water.

BIG RIG & RALLY FRIENDLY RV PARK

Enota is a non-profit conservation facility and does not charge taxes. In order to keep the facility private in the middle of the national forest there is a $15 per site per stay conservation fee.

A GREAT VACATION GETAWAY FOR THE ENTIRE FAMILY CLOSE TO HELEN AND HIAWASSEE IN THE NORTH GEORGIA MOUNTAINS

INTERNET, CELL PHONES, and CABLE TV:
We are surrounded by the national forest in the mountains, so . .
no cable TV & satellite dishes rarely get a signal
Internet Wi-Fi is on the property in the office area but is not guaranteed at each site or accommodation
Although there is some Verizon in the office area, there is no cell phone coverage on the property. We have a courtesy phone available to our guests to call anywhere at anytime. You may also receive urgent phone calls via our main number 706-896-9966

[REVIEWS & TESTIMONIALS] [WATERFALLS] [TROUT FISHING]
[APPALACHIAN TRAIL] [ALTERNATIVE ENERGY]
[ENOTA ECO-VILLAGE] [MOUNTAIN FAIRS & FESTIVALS]
[ENOTA FUN STUFF] [LOCAL ATTRACTIONS] [NEARBY TRAILS
FOR RESERVATIONS AND
MORE INFORMATION CALL
706-896-9966
800-990-8869
Enota Mountain Retreat
1000 Highway 180
Hiawassee, GA 30546
706-896-9966 800-990-8869
| | |
| --- | --- |
| | Your contributions help Enota protect over 60 acres held in Trust for conservation. Enota is a service-based, charitable, educational, non-profit 501(c)3, volunteer organization. It is Enota's mission to conserve this sacred land for generations to come. |