ENOTA

Fun & Educational
Activities
Day Passes
North Georgia Mountains between Helen, Hiawassee, Blairsville
Special Fun Enota Activities
COMING SOON: Play, Hold, and Feed the Baby Animals at the Farm
bunnies, goats, chickens, mini horses, calves, ducks, pigs
all day - anytime - just go to the farm
FREE to overnight guests or with day pass
Feed available for purchase at the Lodge
Farm Tour & Egg Gathering
Meet at farm
FREE to overnight guests or with day pass
Hayrides (weather permitting)
starts again spring 2021
Meet at the Farm & pick ups all around the park
FREE to overnight guests or with day pass
Bonfire (weather permitting)
starts again spring 2021
Meet at the Big Circle in the family tenting area
FREE to overnight guests or with day pass

All activities available to overnight guests
and visitors with a Day Pass (see below)
Watch Enota July 4th Video
OUTDOOR ACTIVITIES
Our outdoor activities include a playing in the streams, three in-ground trampolines, playground complete with sandbox, multiple large bon fire areas and our fully stocked fishing pond allows you to catch fresh trout ideal for a campfire dinner.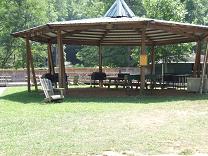 Also available is an outdoor covered kitchen with charcoal grills, electricity and water. Our decking system with multiple picnic tables with umbrellas is ideal for groups desiring outdoor picnics and barbecues.
For those rainy days we have hundreds of movie rentals and a TV room with over 200 satellite channels.
| | |
| --- | --- |
| | There are 4 waterfalls which are accessible from the observation deck or by a short hike. Speaking of hiking, there are miles of trails, including a 1.5 mile path connecting to the Appalachian Trail. For quiet time, there are many secluded spots on the property where you can just relax and listen to the sounds of nature. |
SWIMMING & PLAYING IN THE WATER
| | |
| --- | --- |
| | Kids of all ages (and pets) can get wet in any of our streams including those right on your camping site. You and your family can also hike to the middle part of the 200 foot waterfall where guests can get in and under a waterfall (wow! - just like Pedro in the photo). Also, for deeper water swimming, the old YMCA's "refrigerator" swimming pond is located behind our main lodge. |
DAILY FARM TOUR & ANIMAL FEEDING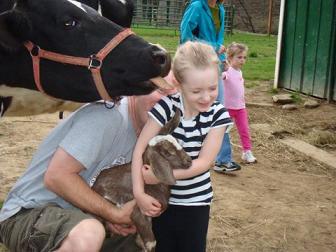 Enota also operates as a bio-diverse farm and has many family friendly animals (chickens, bunnies, goats, cows, mini horses, and more) on our farm. Adults and children are welcome to help with our daily feedings. The duck pond in front of the lodge is extremely popular and everyone has fun feeding the ducks.

Help feed the animals-fun for the kids! Meet at the farm at 4:00 p.m. - April, May, August, September Saturdays | June, July, October Daily
GARDENING & SUSTAINABILITY EDUCATION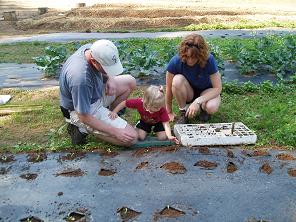 As part of Enota charter, we are also an educational and charitable facility and offer classes to groups. Adults and children can visit our bio-diverse garden, hydroelectric power plant, Cherokee ceremonial area and animal sanctuary to learn more about the heritage of this land and sustainability.
TROUT FISHING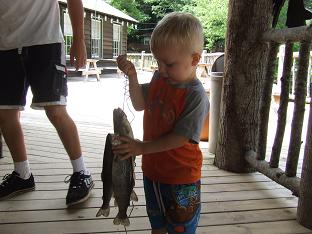 Enota's stocked trout pond is a great place for the kids to catch a fish or to catch dinner. We can supply you with the poles and no license is required. This is a catch and keep pond only with everything you catch - the greater of $7.00 per pound or per fish . Stocked with about 500 trout averaging one pounds. The pond is usually well stocked from April through October.
Another way to fish is in the National Forest adjoining Enota's property. The state stocks the creek running along Road 180 and a Georgia license is required.
Use of our stocked trout pond is available to our overnight guest and to guests that have purchased a day pass.
All activities are available to registered overnight guests. For those families and individuals not staying with us, day passes are available. Day passes are priced at $10 per adult or teen and $5 per child under the age of 13. Pets are welcome at $5. Day passes allow the use of the property for the day to include hiking trails, visiting the waterfalls, playground area with trampolines, picnic area and outdoor kitchen, trout fishing, daily farm tours and animal feedings, and any other events we may have for the day.
As a non-profit conservation and educational facility, Enota also hosts school field trips. With at least 25 students, pricing is $15 per adult or teen and $10 per child 12 years and younger. All Enota activities are available to students and as part of the field trip program, Enota educators will provide an in-depth, hands-on and fun educational experience at the bio-diverse farm and garden. Click on the videos below to see some clips from recent school field trips.
| | |
| --- | --- |
| Lakeview Academy 2nd Grade Field Trip | Waldorf School 3rd Grade Five Day Field Trip Retreat |
[REVIEWS & TESTIMONIALS] [WATERFALLS] [TROUT FISHING]
[APPALACHIAN TRAIL] [ALTERNATIVE ENERGY]
[ENOTA ECO-VILLAGE] [MOUNTAIN FAIRS & FESTIVALS]
[ENOTA FUN STUFF] [LOCAL ATTRACTIONS] [NEARBY TRAILS]
FOR RESERVATIONS AND
MORE INFORMATION CALL
706-896-9966
Enota Mountain Retreat
1000 Highway 180
Hiawassee, GA 30546
706-896-9966
| | |
| --- | --- |
| | Your contributions help Enota protect over 60 acres held in Trust for conservation. Enota is a service-based, charitable, educational, non-profit 501(c)3, volunteer organization. It is Enota's mission to conserve this sacred land for generations to come. |